Defining Globalization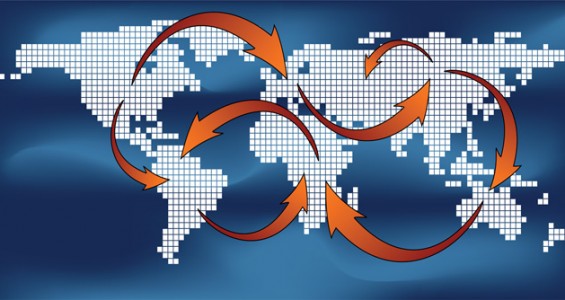 The widespread usage of the concept of "globalization" makes it no less difficult to define. For some, it is the 'McDonaldization' of the world—the process through which cultural boundaries become permeably porous; other people perceive globalization as the overwhelmingly growing economic and political interdependence amongst nations that ensures that no national economy can any longer remain an impenetrable 'island'. Along with the surging economic ties amongst countries, their politics are equally interwoven. In other words, due to the process of globalization, it is nearly impossible for countries to isolate their domestic politics and policies from external influences; conversely, countries are finding it extremely difficult to 'prevent' their domestic politics and policies from impacting others'. To illustrate, consider the recent corporate tax cuts in the US; though it is a de facto domestic policy, the reforms will definitely influence the ways international companies behave in doing business and greatly impact their future investment plans. As a result, other countries will ultimately need to respond accordingly in order to keep (or improved) the position they held before the reforms in the US. To be sure, then, one could identify three types of globalization: cultural, economic and political. In a nutshell, globalization is thus the irresistible "annihilation of time and space", as Karl Max sees it.
When is globalization? One may legitimately ask. As far as I'm concerned, the process of globalization is a historical phenomenon—historical in the broader sense that it has always been there; I even dare say: it is as old as human history. Yet the pace, the degree, the extent of its development has greatly varied in the course of time and, therefore, one may identify different waves of globalization throughout history.
Nonetheless, one may claim, with dauntless confidence, that the phenomenon started to hit unprecedented heights with the Europeans' adventurous voyages and explorations. The ultimate results were the dominations, subjugation, and colonization of the discovered (for European colonizers and the imperial powers) territories. To guarantee their unrestrained access to natural resources and larger markets for trade, these powers had to fight disastrous wars, conquer territories, and further intensify human interactions—globalization in the making.
Yet the speediest wave of globalization may rightly be associated with, say, the end of the (hotly) Cold War and the assumed victory of capitalism, the advent of the Internet, the technological revolution in telecommunication and transportation, the McDonaldization and Coca-colonization of the world. When Francis Fukuyama declared the end of history and the (birth) of the last man, for instance, he was referring the unabashed victory of capitalism and, by extension, globalization.
With the globalization of terrorism, the securitization of migration, the resurgence of nationalism/populism/chauvinism, etc., however, Fukuyama's last man is still yet unborn—and may never see the daylight—as he so unrestrainedly and gallantly proclaimed!
No comments
Leave a reply